Products
Windows, doors, roofs, greenhouses, balconies from manufacturing company
Green houses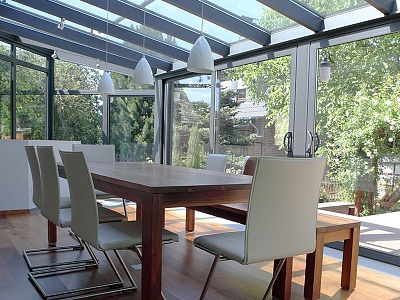 Green houses are special architectural elements with a glass roof and walls.
Green houses can become an accent of the interior design, a real "living" corner, where you can spend time.
Aluminum green houses are so popular because they are waterproofed, resistant to weather influences, withstand large temperature differences. They are also light and flexible, so compound structures can be built from them. The aluminum green house will serve you a lifetime without outside interference.
To build a green house by yourself is very problematic thing. We recommend using services of TATPROF and order this design by us. Green house is a dream of every ornamental plant amateur.
We offer several types of glazing per your requirements.
Aluminum green houses can have various types of application.
The most popular are:
On balconies, loggias;
On the building roof;
Separate building;
Attachment to the house.
Turnkey green house project
Our specialists will make all the necessary calculations, draft of aluminum green house in accordance with all your requirements, select the best materials, and perform the installation of the structure.
